If you need something thoughtful to give to those special people in your life, have you thought of giving personalised Christmas gifts to those you love? They
needn't be expensive
, but they will be cherished forever, and they certainly
take the stress out of Christmas time
! Here is a brilliant round up of the top 35 personalised Christmas gifts available now. Top tip – make sure you get your orders in with plenty of time, due to the handmade nature of the personalisation.
1. Engraved Wooden Xylophone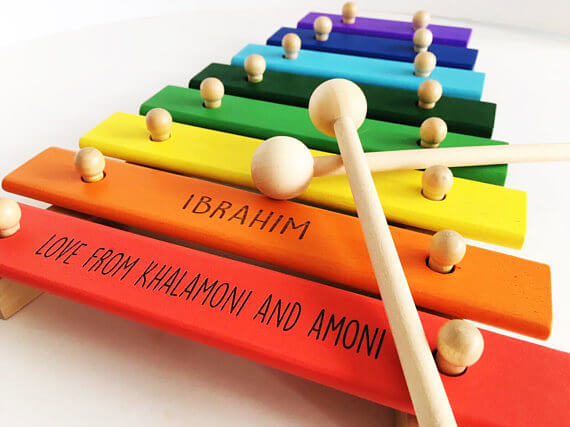 With this multi-coloured, wooden xylophone every child gets a feeling for sounds and melodies. A well-made gift to treasure for years.
---
2. Wooden Noah's Ark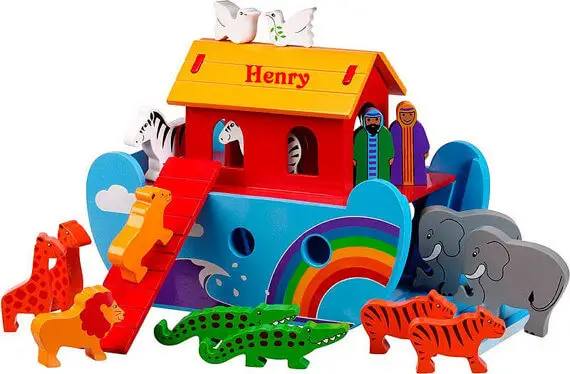 This traditional ark has long been a favourite for girls and boys alike. Brightly painted, it will bring hours of play value. Professionally personalised with your childs name for free!
---
3. A Beautiful Personalised Story Book
These special handmade books make your child the star in their very own personalised story. Every personalised book is created especially for your child's name. With clever rhyming verses, full page colour illustrations PLUS you get to pick the Adventurer that most resembles your child.
---
4. Personalised Wooden Platter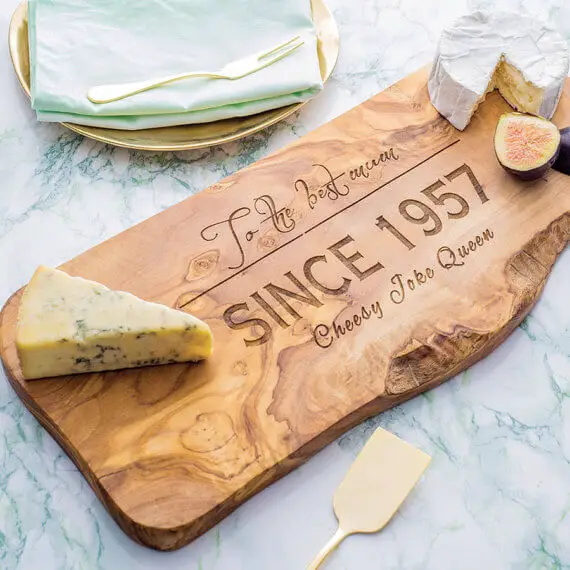 A beautifully designed and unique artisan board ideal for use as a chopping, cheese, cutting, serving or antipasti board, made from olive wood.
---
5. Personalised Leather Journal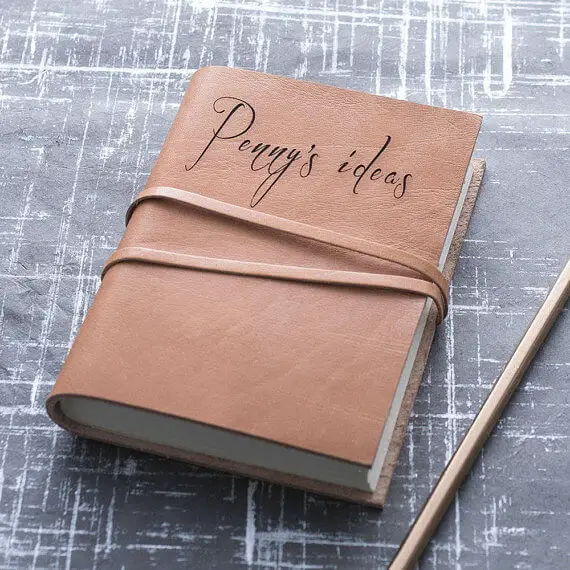 A rustic, vintage style leather journal, personalised with your choice of words. It could have so many uses – as a diary, travel, garden or wine journal, sketch book, somewhere to jot down your to-do lists, recipe book, for memoirs and quotes, the list is endless!
---
6. Handmade Wooden Family Tree

Beautifully handmade personalised Family tree in a Frame made of the highest quality and making a wonderful gift.
---
7. Chalkboard Memo Wall Calendar
This is the must-have item for family homes and offices. A chalkboard calendar!
---
8. Sterling Silver Charm Bracelet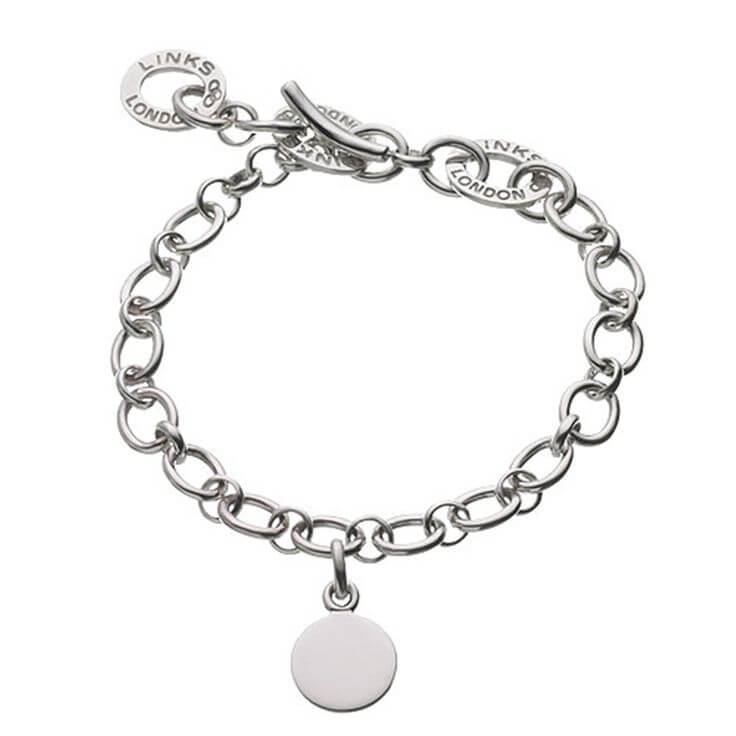 This beautiful, adjustable length charm bracelet is the perfect gift for a little princess.
---
9. Chrome Pen Case & Pen

The chrome pen case and rollerball is a classy personalised gift, highly versatile and suitable for a number of occasions including birthdays and Christmas.
---
10. Engraved Pewter Tankard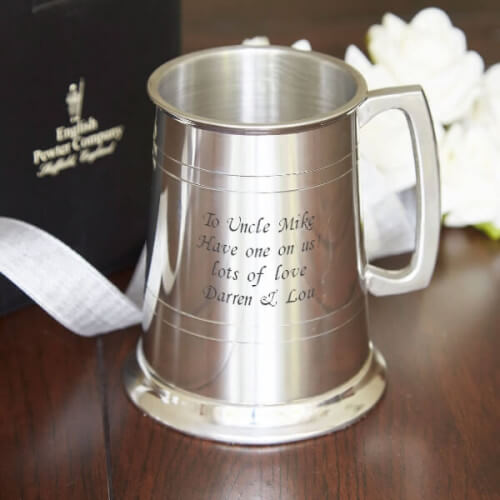 A classic tankard with a personalised twist, this gift will take pride of place in a home bar or display cabinet! A sure-fire hit for a grandad or dad who's partial to ale or beer, it can also make an ideal retirement gift – or why not club together on a stag and get the groom a gift they'll remember forever?
---
11. Custom Family Name Wreath
This scandi-inspired wreath is the perfect bit of holiday cheer to introduce in to your home! Best indoors, your wreath will look beautiful on the mantle piece, hanging in the dining room or hallway or on the inside of your front door all year round.
---
12. Personalised Initial Key Rings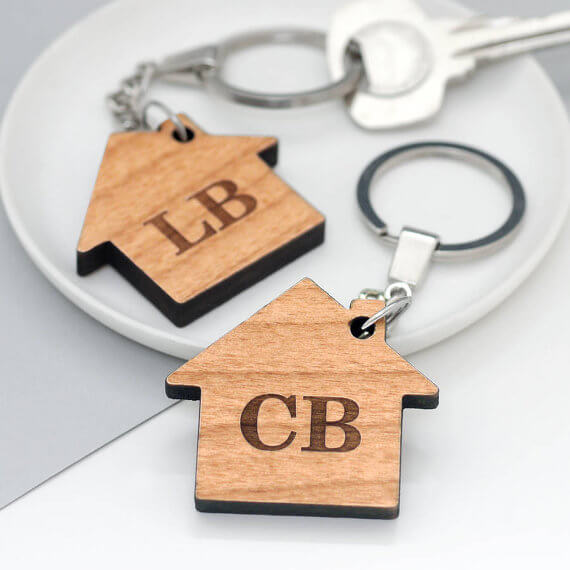 A set of two beautiful house shaped key rings, personalised with the initials and messages of your choice.
---
13. Initial Bar Necklace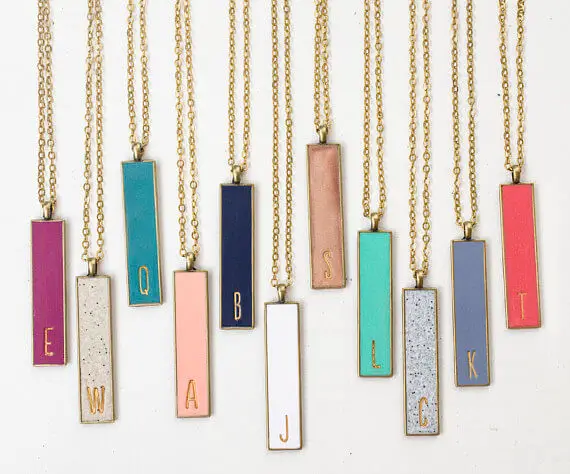 Handmade personalised charm clay necklace with initial of your choice. Necklace comes on a raw brass chain (chain is coated to prevent tarnishing), and the chain measures 30 inches.
---
14. Name Keychains
Custom personalised name keychains. The letters will be painted similar to the keychain with the corresponding tassel colour.
---
15. Personalised Cookie Kit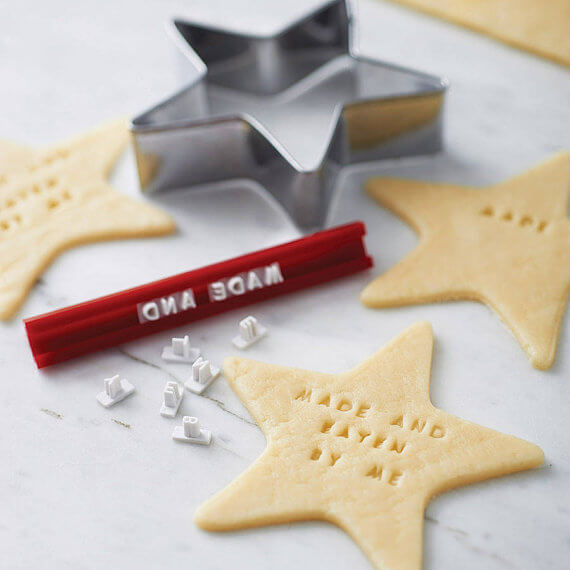 This cookie decorating kit allows you to stamp any message into a biscuit, cookie or icing. Bakers will love having this versatile kit in their arsenal.
---
16. Personalised Oak Phone Charger Stand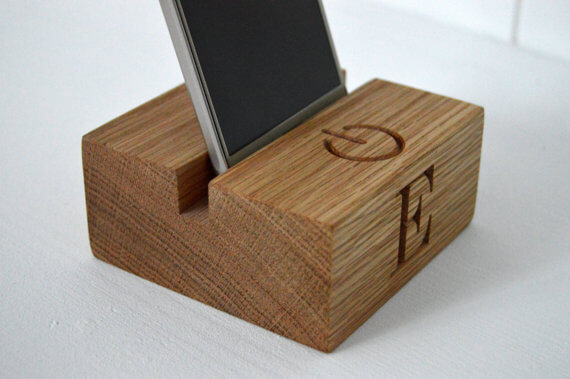 This oak phone charging stand is personalised with an initial or word of your choice. These charging stands come in single or double. Carved with the power symbol on the top is standard but you can choose to have it plain.
---
17. Our Fave Personalised Christmas Gifts – Personalised Oak Peg Rail
A beautiful solid oak peg rail, personalised with your choice of names or words with a choice from 4 to 7 pegs.
---
18. Hand Stamped Bottle Opener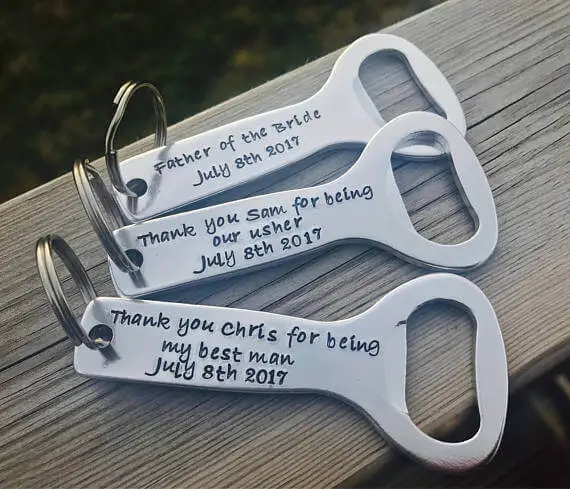 This item is made from aluminium which is a lightweight metal but also strong and durable. Personalised with your own choice of wording.
---
19. The Vagabond Overnight Bag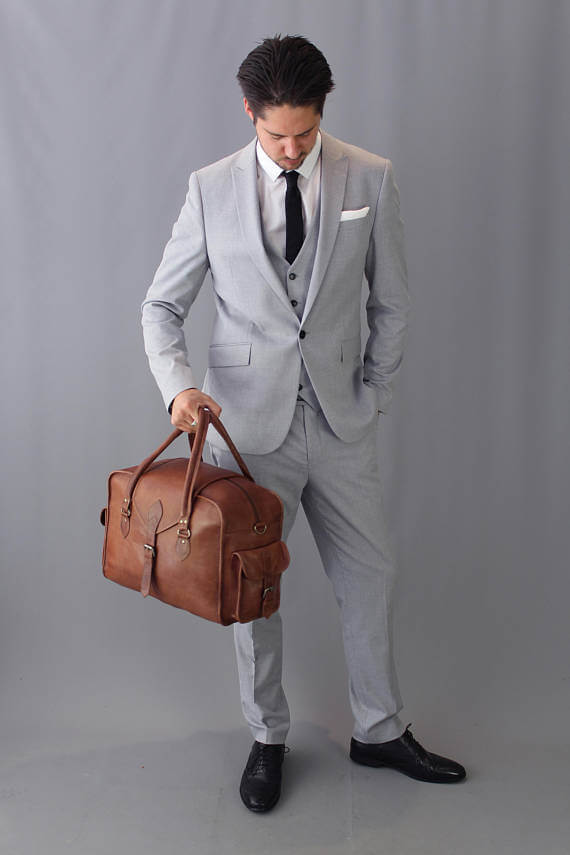 Vintage style brown leather bag which can be used as holdall, duffle or carry on flight luggage.
---
20. Bubble Base Decanter
This 1 litre magnum bubble base decanter makes a super classy gift. Change the name and date on the front of this design and the initial on the stopper to make it a truly personal gift.
---
21. Lego Minifigure Frame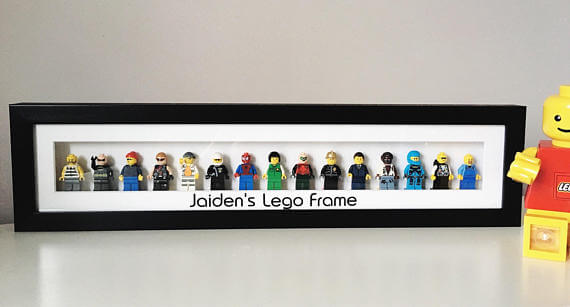 This personalised Lego Minifigure frame makes a great gift & fab addition to a room of a Lego addict. The lego figures are stacked on secure bricks so they are able to be changed as and when.
---
22. Leather Toiletries Case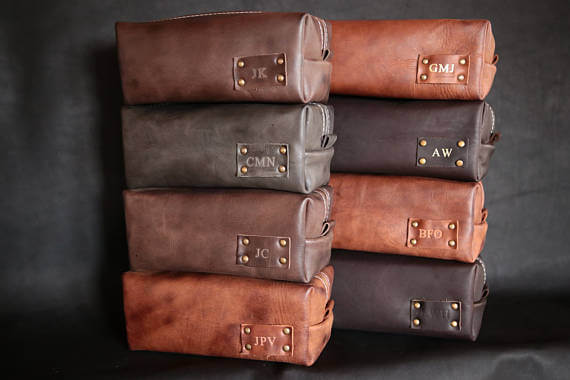 These tastefully personalised wash bags are so stylish for travel lovers.
---
23. Personalised Man Cave Sign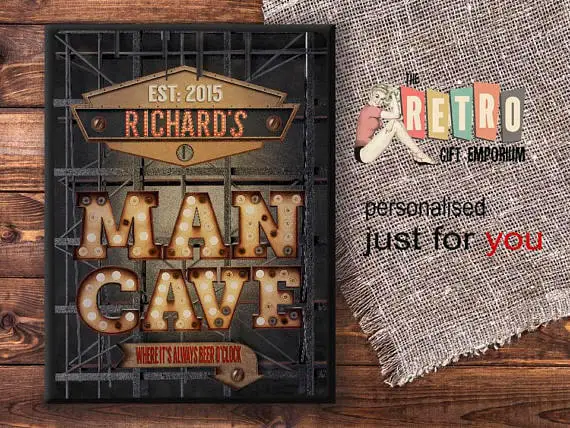 This retro metal plaque has been reproduced to offer an authentic retro style and has a vintage distressed effect which adds to its retro weathered look and charm.
---
24. Personalised Makeup Bag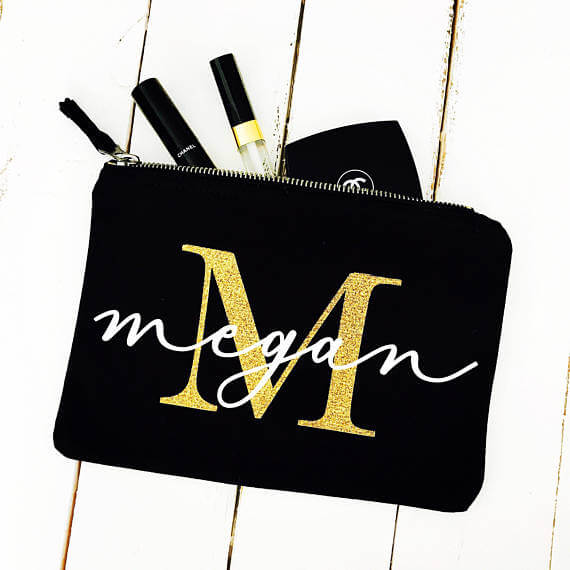 Personalised Makeup bag – the perfect gift for a mother, daughter, sister, best friend, auntie or godmother.
---
25. Personalised Tassel Key Chain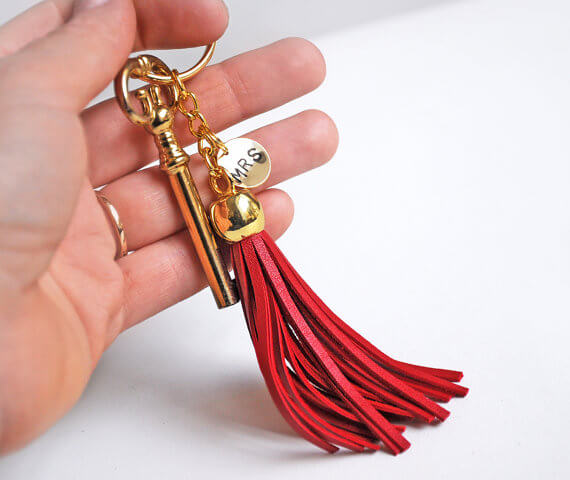 The perfect way to freshen up any set of keys or key fob. It will make your keys easier to find and more fun to carry. You can also attach it to your purse, hand bag, necklace or anywhere you want!
---
26. Personalised Cheese Board Gift Set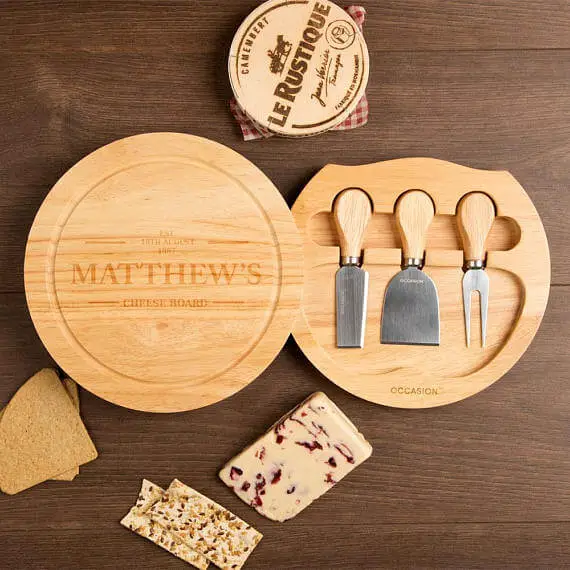 Surprise a cheese-lover on their birthday or Christmas with an engraved cheeseboard and knife set.
---
27. Personalised Necklace

These beautiful delicate bar necklaces can be personalised with a name, date, word or symbol of your choice, or you could even leave it blank!
---
28. Handwriting / Drawing Necklace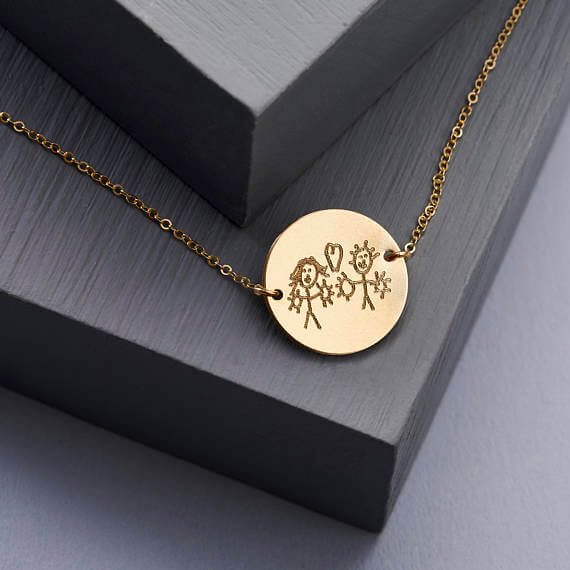 Make your moment a memory and your memory a moment forever with this special handwriting disc necklace.
---
29. Personalised Box Frame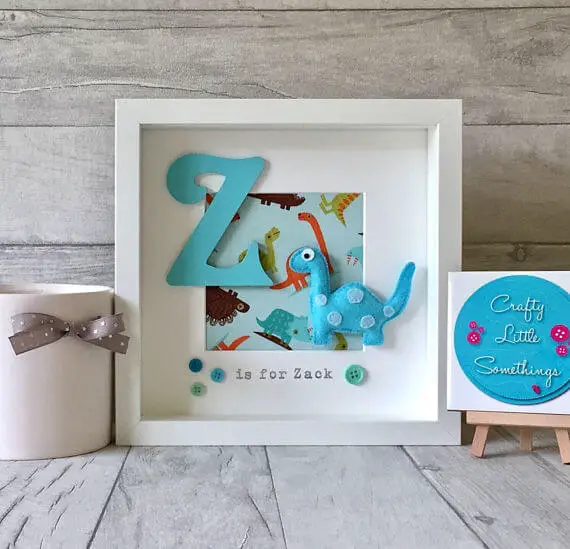 Beautiful and unique personalised box frame by Crafty Little Somethings.
---
30. Black Leather Tool Roll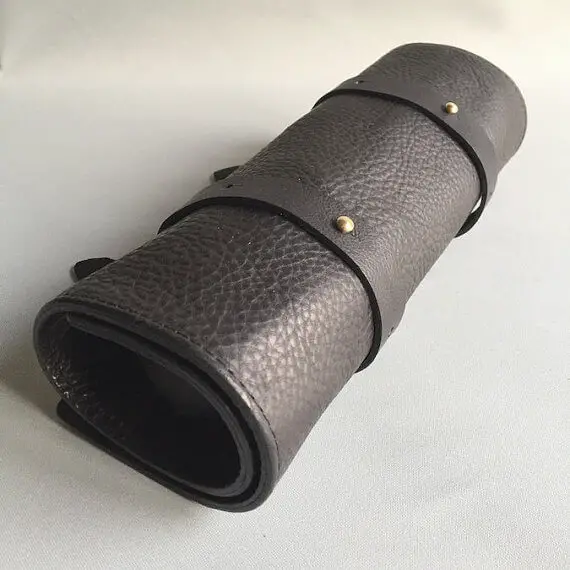 Designed for your tools, whether that be carpenter, stonemason, barber, hairstylist, mechanic, artist, chef. This naturally dyed leather so supple yet very robust. The edges of this tool roll have been burnished and waxed for extra quality finish.
---
31. Personalised Comb With Leather Case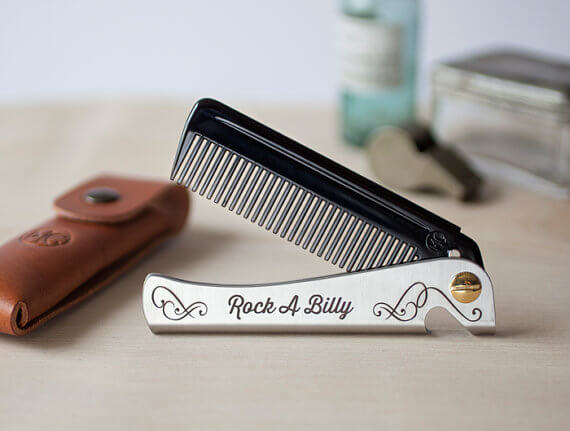 A customised, hand-finished folding comb and bottle opener with real tan leather case. The ultimate tool for your hair, beard and beer.
---
32. Personalised Seed Box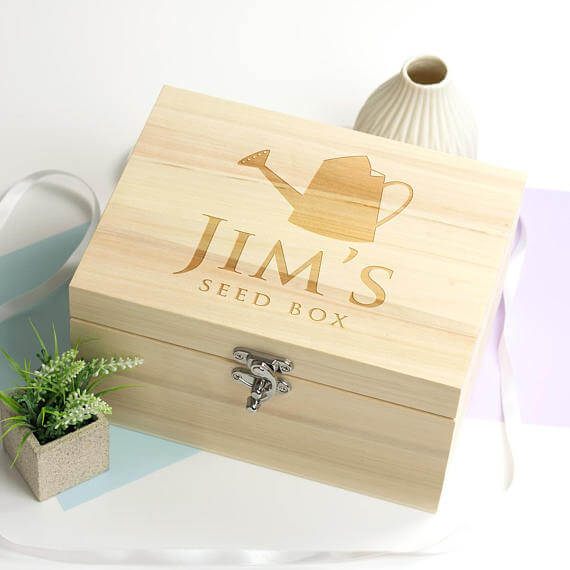 Keep your seeds and small gardening items safely together and stored in this personalised wooden seed box, the perfect gardening gift for the green fingered.
---
33. Calligraphy Pen Holder
This lovely calligraphy ink pot was created so that the ink can't be spilled. Customisation makes it an extra special item.
---
34. Christmas Cookie Jar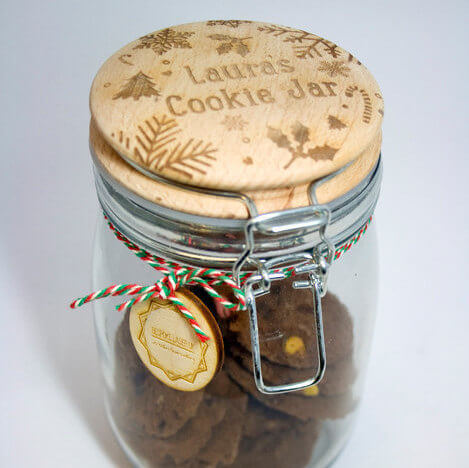 This personalised cookie jar is the perfect Christmas gift for any biscuit lover!
---
35. Magnetic Leather Bookmark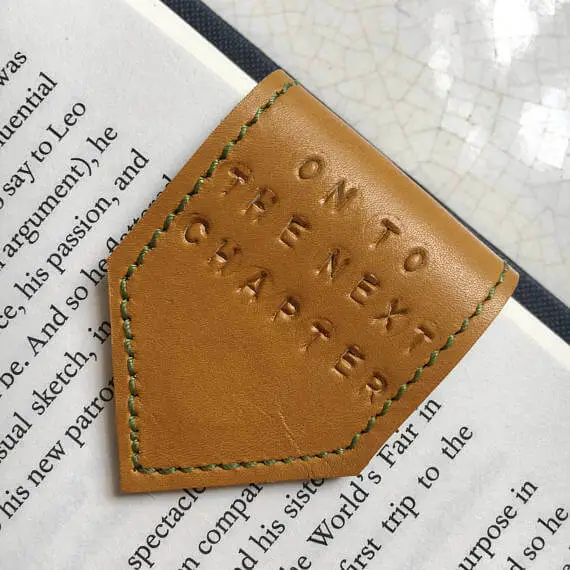 Wherever you take it or wherever the book takes you, the pointer will always keep your spot! This leather bookmark is perfect as due to it having internal magnets it won't accidentally slip out of your book.
---
Pin this for later…